HX-6500 – Slimline embedded touch screen POS
The HX-6500 POS terminal is a state-of-the-art 15.6″ bezel-free, capacitive touch screen point of sale system suitable for hospitality and retail venues of all shapes and sizes.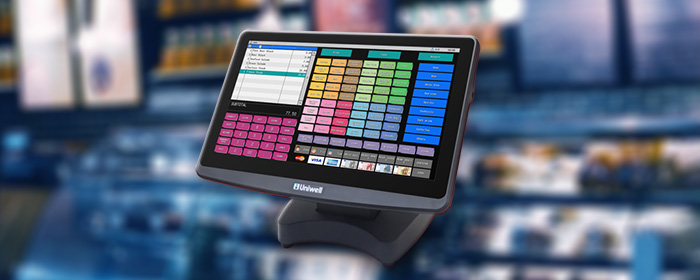 Here are four key reasons to consider the HX-6500:
Reliability – Uniwell's proprietary embedded technology removes risk areas in relation to system reliability. POS features are specifically designed to be robust and easy to operate. Third-party applications can't be loaded onto the dedicated POS terminal, so stability is not compromised.
Operational speed – At Uniwell we have been developing and refining our POS technology for decades. A properly configured Uniwell POS system provides superior functionality, while still being faster and simpler to use for an operator than many other point of sale products.
Security – An embedded POS terminal is an 'all-in-one' solution with no separation between operating system and POS application. This singular purpose provides greatly enhanced security, as users can't access the internet and introduce external information to the POS terminal's memory.
Purpose-built hardware – Our POS terminals are specifically designed to cope with the day-to-day requirements of high-volume hospitality and retail venues. Uniwell has a long-standing reputation for quality POS hardware that can handle the physical workload that a standard tablet, laptop or PC may not.
Based on Uniwell's over 40 years of POS development experience, we encourage you to consider how the HX-6500 is designed to empower your business.
HX-6500 Features
Hardware Features
15.6" bezel-free and true-flat touch screen display with enhanced splash-proof performance
Capacitive touch screen with superior durability
Graphic LCD Customer Display support
Increased internal memory
CashGuard interface (cash recycle/cash dispenser)
Caller ID interface (telephone ordering system)
Portable storage devices (USB)
Table Management
Table tracking with floating track capability
Extensive condiment items for meal options
Cooking instruction features
Handwritten cooking message
Powerful kitchen printing facilities
Split bill functionality by item or seat
Checkout bill
Deposit
Graphic table maps
QSR and Fast Food
Customized receipt
Extensive topping
Take out/eat-in system with combo menus
Drive through
Web ordering system integration
Retail
Various promotion types including
Mix and Match, Meal Deals, Coupons and more
Stock control
Weight/Price embedded barcode and source marking code
Integrated scale features
Customer Management
Customer account tracking
Simple loyalty features
Room/Loyalty
Mifare card (RFID card) Customer Loyalty
Other Features
Extensive internal reporting options
Electronic journal storage
Remote maintenance facility
Integration with back-office POS management and reporting software

SQL Database Accessible sales database for custom reporting

And more!
---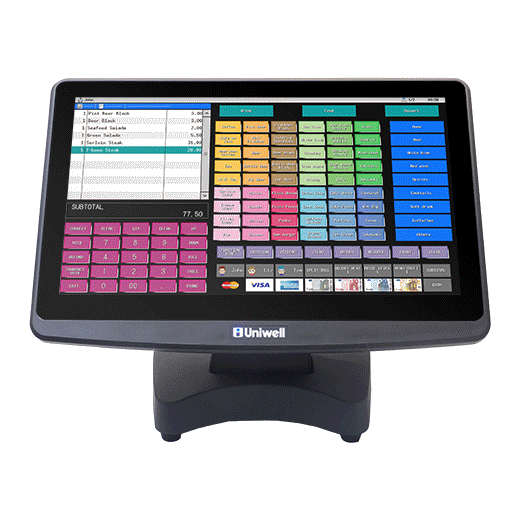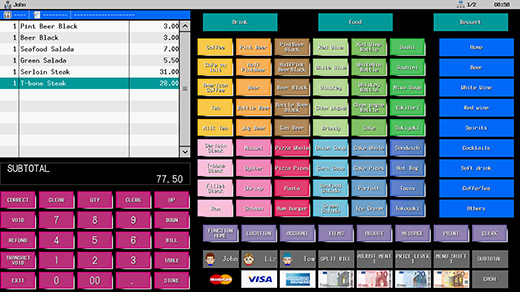 Screen image of HX-6500 software type-03 (Example with some graphical buttons)
Built-in graphical buttons are customizable by BMP file.
Graphical Table Plan: Different layout is available for up to 8 locations.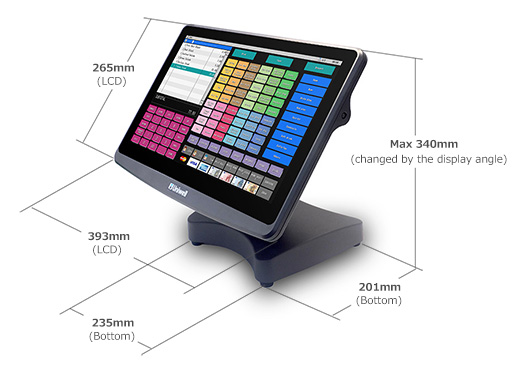 Compact & small footprint
Versatile mounting options: counter or pole (dealer option).
(HX-6500 has VESA Mounting Interface Standard MIS-D75, 75 mm X 75 mm, M4)
Well positioned I/O ports and smart cabling through the POS stand
Option: POS stand Arm
Option: Customer LCD display
DP156A-U (USB/15.6 inch TFT display)
Option: POS stand Arm
Option: Customer LCD display
DP101A-U (USB/10.1 inch TFT display)

Interfaces
Port
Cable
For
ETHERNET
LAN
PC (Back office)
FTP comm. with PC (Report, Program maintenance, Firmware update)
UDP data streaming (Journal data monitoring and analysis)
Internet (Head office, Web ordering)
Remote access/Remote maintenance
Ethernet IRC (max 32units) (Floating Track, IRC report, Program download, etc.)
Kitchen/Receipt printer (shared max 20unites)
Kitchen video system
EFT terminal
External loyalty

COM 1-4
RS232C
PC (real time data streaming)
Printer (kitchen, receipt, slip)
Caller ID
EFT terminal
NFC terminal
2 line customer display/customer LCD
Barcode scanner
Scale
Journal data transfer
Room transfer
Coin note recycler
Drink dispenser
etc.
USB x5
USB
PC keyboard
Mouse
Barcode scanner
USB memory
LCD graphic customer display
RFID reader
Biometric scanner (Finger print reader)
micro SD Card
Data backup
Control data and graphic image for ''LCD graphic customer display''
Drawer1&2
Rj11
24V drive, one connecter for the two drawers with open sensor
Options
iButton for quick clerk sign on
Back Office Modules
Cloud-based POS Management Modules