Lynx - Back office software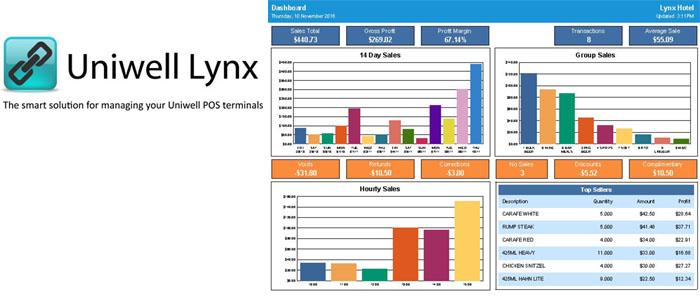 Choose the solution that's right for your business ...
Uniwell Lynx is a back office software for solution for Uniwell ECRs and POS terminals. Catering for the needs of retail and hospitality businesses, Uniwell Lynx has been developed as a modular software solution with options from simple program management through to multi-location sales analysis and stock control.
The developers of Uniwell Lynx have over 30years experience in producing POS-integrated stock contorol solutions for Australian hospitality environments.
Uniwell Lynx is designed to enhance the operation of Uniwell's excellent range of touch screen Hybrid ePOS terminals

Key features
Easy Item and Price Updates
Detailed Sales Analysis
Cloud and Email Reporting
POS Screen Layout Design
Centralised POS Program Maintenance
Scheduled POS Communication & Report Export
Live Journal Data Viewer
Automated Data Backup features
Additional Modules and Add-Ons Available:
Customer Account Tracking & Promotions
Stock Control :
simple inventory contro
record received from suppliers
sales data retrieved from stock
comprehensive stocktake and stock valuation facility
purchase orders can begenerated and e-mailed to suppliers directly, including the supplier's internal item codes
Reorder and recommended levels can be set for items,generating purchase order suggenstions
powerful stock reporting, including movement coverage and summary reports
schedule automated e-mail or cloud export of critical stock control reports to key staff
integrates with selected portable data terminals for remote stocktaking and other stock control facilities.
Linked Items (Recipe control)
Multi-Location Sales and Stock Analysis
Labour Cost Reporting
Export to Xero Accounting
Uniwell Lynx is packed full of features to save time, increase operational efficiency and help you analyse and grow your business.
Uniwell Lynx (click here if you need further information)
* Demo version software is available to download from Lynx Software website.