HX-1500, Compact bezel-free touch screen POS
Another "Hybrid" PoS solution out of HX series with Small Footprint and Bezel free 10.4" Touch Screen.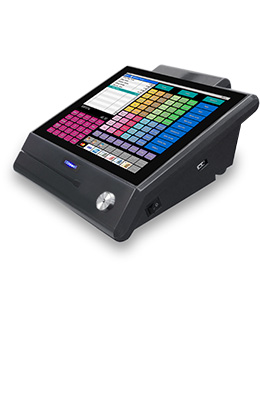 HX-1500 gives you more opportunities to gain a larger market share even competing with PC-PoS terminals in term of pricing. And moreover software and program of HX-1500 is a heritage from HX-4000/4500 so that you do not need to learn again.
And HX-1500, using the embedded software, provides you the benefits of :
Save your maintenance jobs & transportation expenses like HX-4000/4500 by Remote Access/Remote Maintenance
Data saved for longer period of time by large internal memory
With low cost table service option – Android handheld terminal & Phoenix
Encourage guests to revisit the shop by enriched customer loyalty
Stock management without PC
50,000 PLU's offer a neat option for Retail Scanning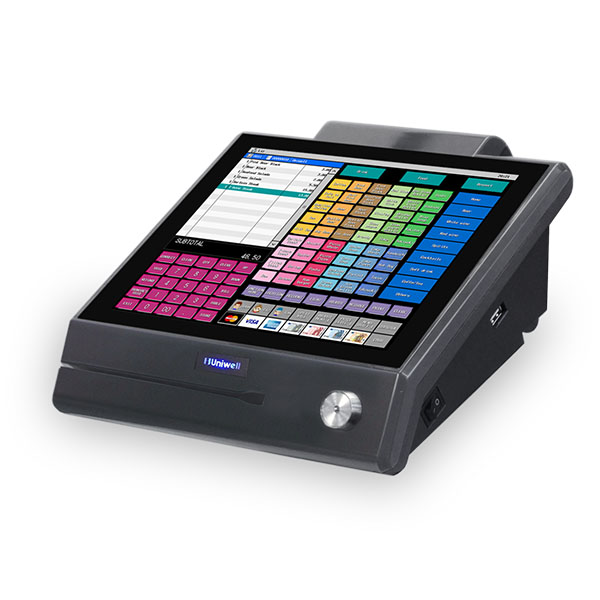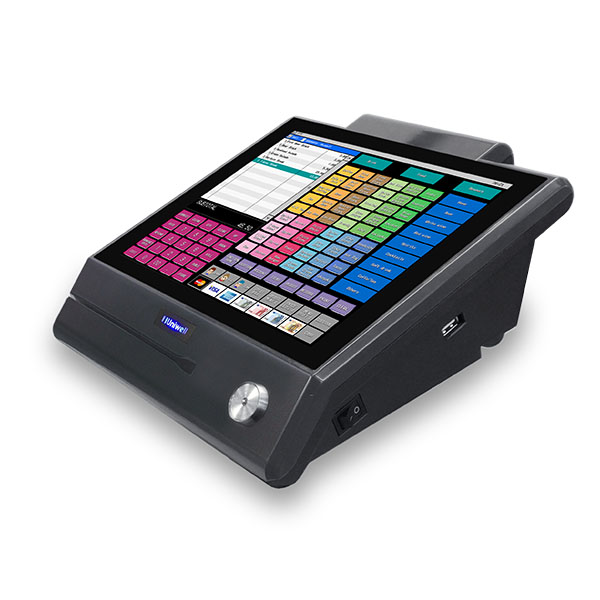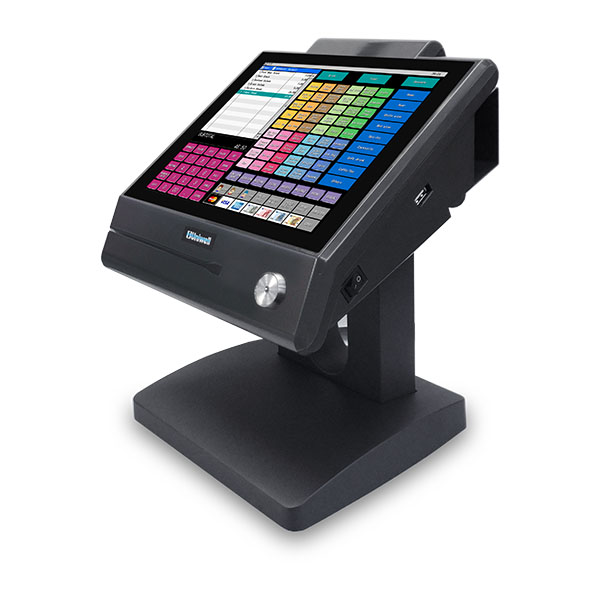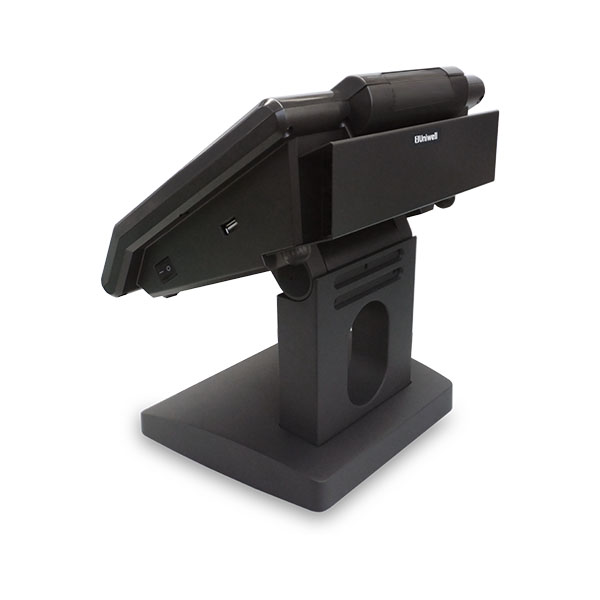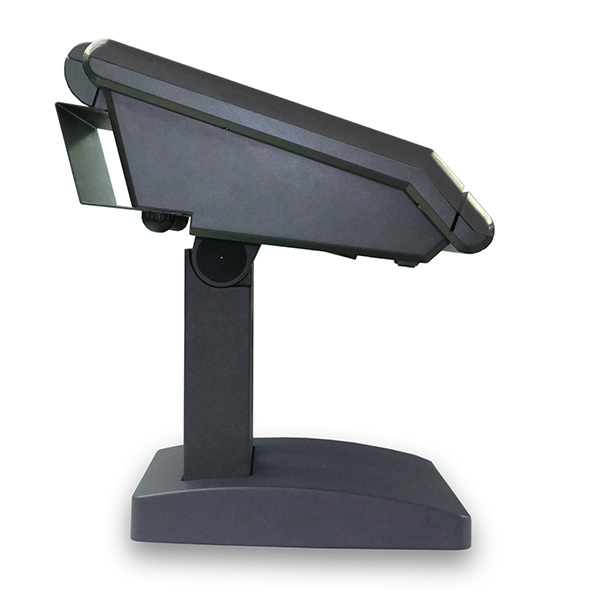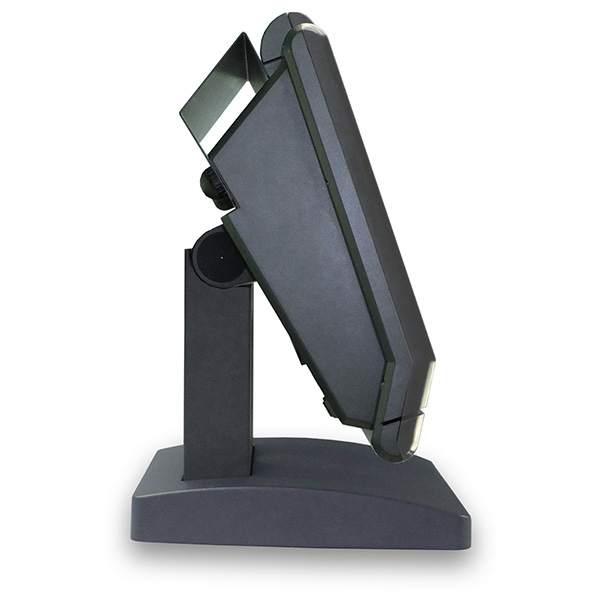 HX-1500 (Discontinued / some area) Features
10.4" bezel-free and true-flat touch screen display with enhanced waterproof performance
Touch screen with superior durability
Graphic LCD Customer Display support
Remote Access/Remote Maintenance realizes swift solution to the techincal queries/issues.
Handheld link : HX-1500 can work with Uniwell's genuine solution, Android handheld software "PhoenixⅡ".
More Internal Memory enables data save for a longer period.
User friendly operation with rich GUI (Graphical User Interface): users are well guided through all the operations even without manuals or training.
Quick access to what you need by categorized groups of PLU's and Function buttons. Areas of PLU's, Function buttons, transaction screen, etc. are flexibly configured according to the convenience of users.
Easy-to-use Table Plan enables drag & drop operation to move, transform and create tables, etc. in sales mode. Table status of subtotal amount, table-opening time/duration and customer name help better table service.
Built-in stock control : Stock of items is shared between terminals in the network and notifies operators at certain re-ordering level of stock.
Customer File function : a list of customers with last visit and credit amount information enables speedy pick-up and better customer service.
Realtime/Multitasking operation with handheld order entry terminals (e.g. PhoenixⅡ) & belt printer.
Barcode scanner interface and scale link : for Hospitality and Retail markets
Meal Deal (Advanced Mix & Match) offers various types of discounts
Security levels with passwords for sales, report and program.
Customizable print format for various bills, tickets, reports.
Loyalty function various types of built-in loyalty features available.
Timed reports push-up and realtime price change : reports can be pushed up to the server at designated interval with a choice to download updated program file if existing on the server.
Caller ID interface : a telephone number of incoming call can be transferred to HX-4500 to prompt an operator to pick up a Customer File or create a new one.
TCP-IP/Serical Loyalty/Room feature : Transaction data can be transferred to a server for loyalty program, or to be merged to room charge at a hotel, via either serial or TCP-IP communication.
Flexible report : periodical report is available with parameter entry for print or display.
Remote communication : FTP comm. enables remote firmware update, preset data modification, and sales report push-up to remote FTP sever for web based sales analysis.
Highspeed communication : Ethernet 100 Mbps access for rapid report/data polling, program update and data transfer between PC, kitchen printers and other POS terminals in a network.
Portable storage devices : 3 x USB ports for quick on-site software update, data collection and data backup
---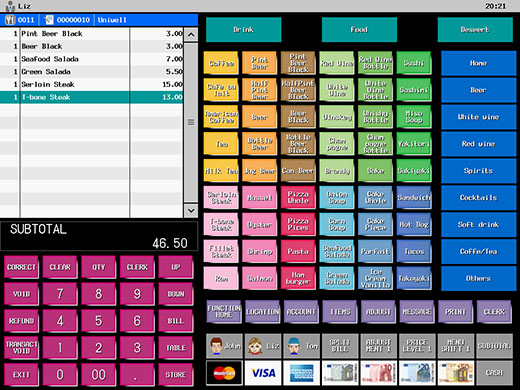 Screen image of HX-4500 software type-03 (Example with some graphical buttons)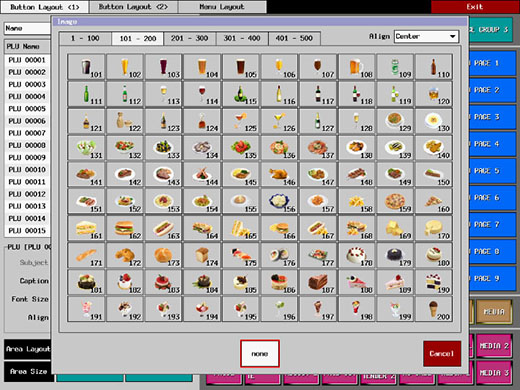 Built-in graphical buttons are customizable by BMP file.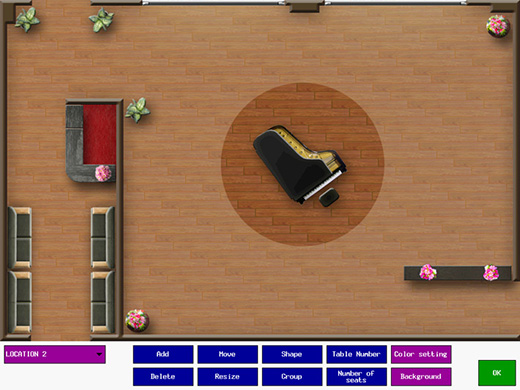 Graphical Table Plan: Different layout is available for up to 8 locations.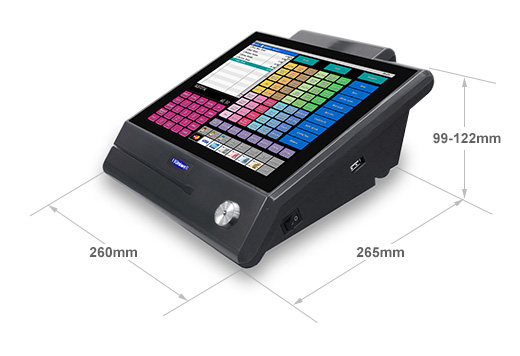 Dimensions :
W260 X D265 x H99-122

Net weight :
2.0 kg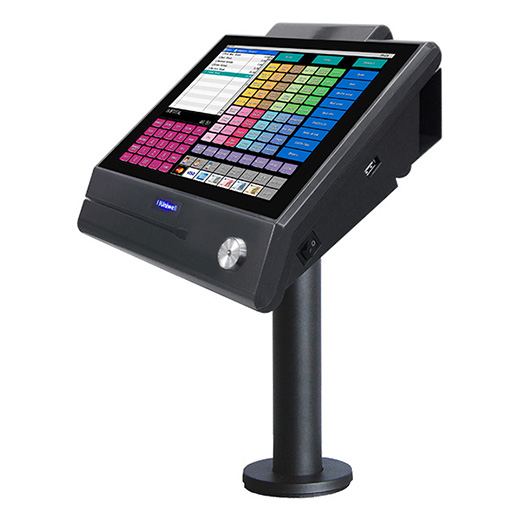 Versatile mounting options: counter or pole (dealer option).
(HX-1500 has VESA Mounting Interface Standard MIS-D75, 75 mm X 75 mm, M4)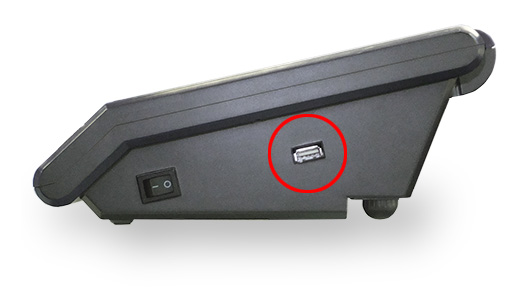 Interfaces
Port
Cable
For
ETHERNET
LAN
Remote Access/Remote Maintenance
High Speed IRC at 10/100 Mbps (10/100 BASE-T)
Kitchen printer
Receipt printer
FTP comm. with PC (Report, program maintenance, firmware update)
IRC report, IRC program download
UDP data streaming with PC (Journal data monitoring and analysis)

COM 1~2
RS232C
For:
- PC
- Receipt printer
- Kitchen printer
- Slip printer
- Customer display
- Scanner
- Scale
- Journal data transfer
- Remote operation device
- Cashless devices
- etc.
(max. 2 devices)
USB x 3
USB
- PC keyboard
- Mouse
- USB scanner
- USB memory
- USB Customer LCD display
SD card
---
Data backup
Drawer 1 & 2
RJ11
1st & 2nd Drawers
Options
Card Reader
iButton for quick clerk sign on
Customer display (RS232C)
Back Office Modules
Cloud-based POS Management Modules