HX-4500, High performance bezel-free touch screen POS
With the features/capabilities of PC-POS architecture, "Hybrid" HX-4500 is your first answer because much more than just embedded system with a 15" bezel-free touch screen basing upon over 35 years of trust and experience. Feel the innovation in technology; the HX-4500 is a new generation POS terminal with a true-flat touch screen that is a combination of the advantage of Embedded POS and PC POS technology.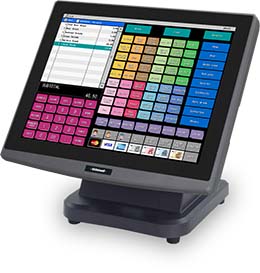 Proprietary software and hardware with solid-state technology (No moving parts, No Hard Disk, No fan) offers reliability and stability of Embedded system.

As advantages of Embedded POS, HX-4500 offers speedy operation as well as instant power on/off without waiting for some minutes for OS to boot/finish, Robust system secure from virus attack and hacking, No aged deterioration of machine performance - Everlasting quick and light performance as good as new, swift and stress-free support by Remote Access/Remote Maintenance function.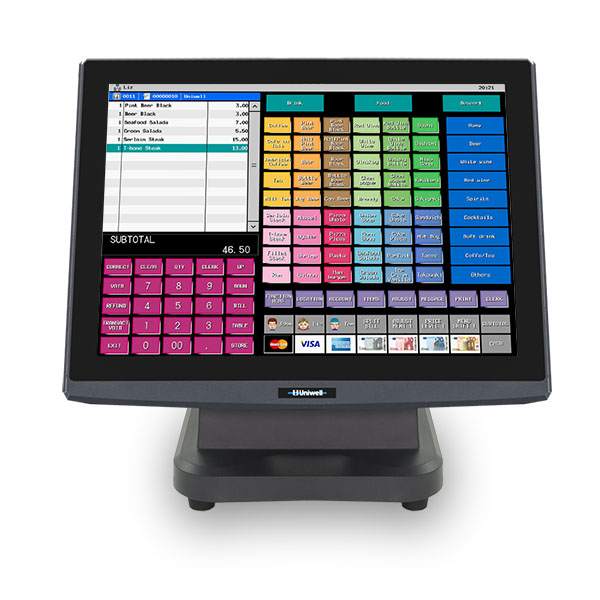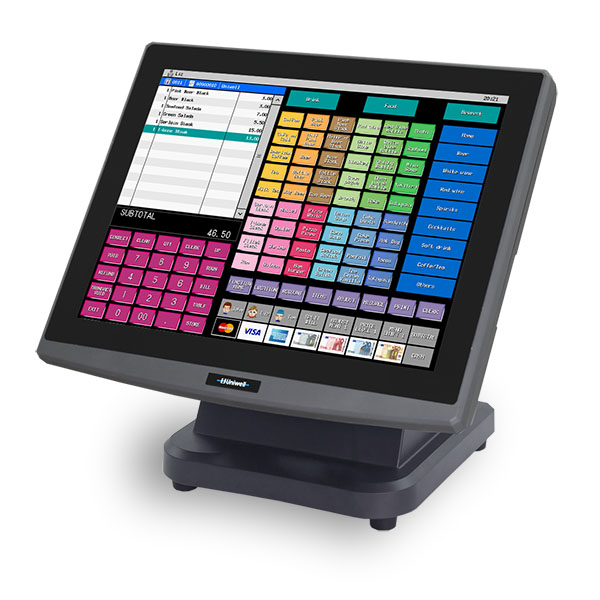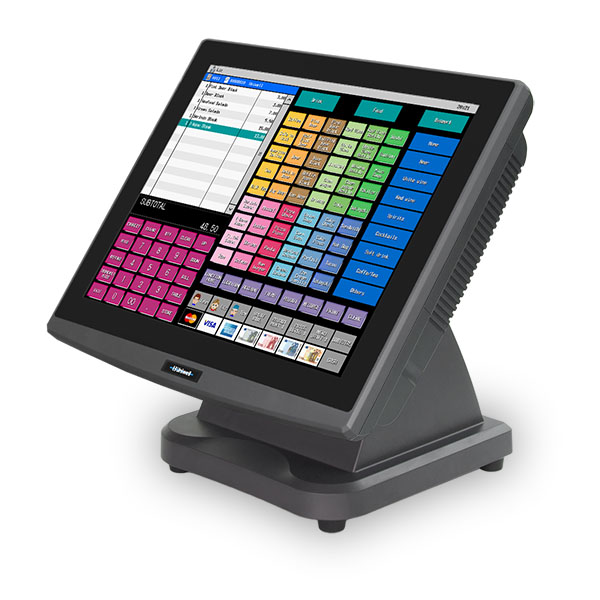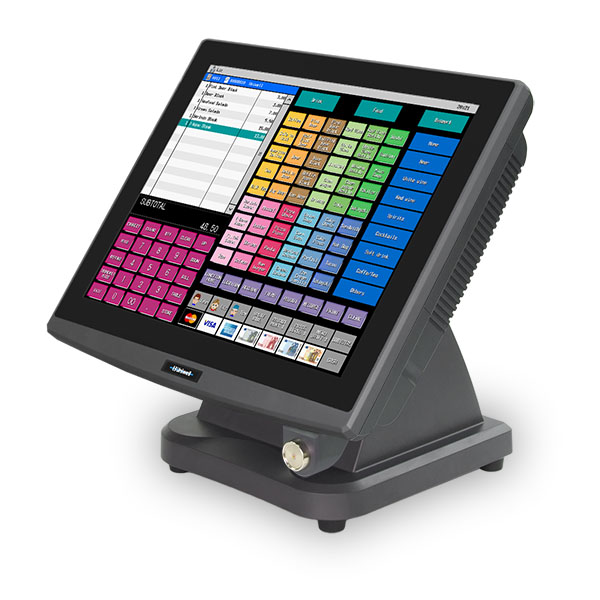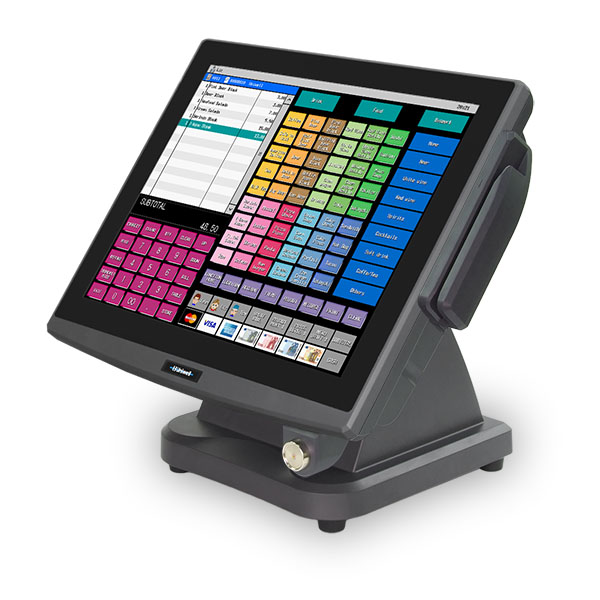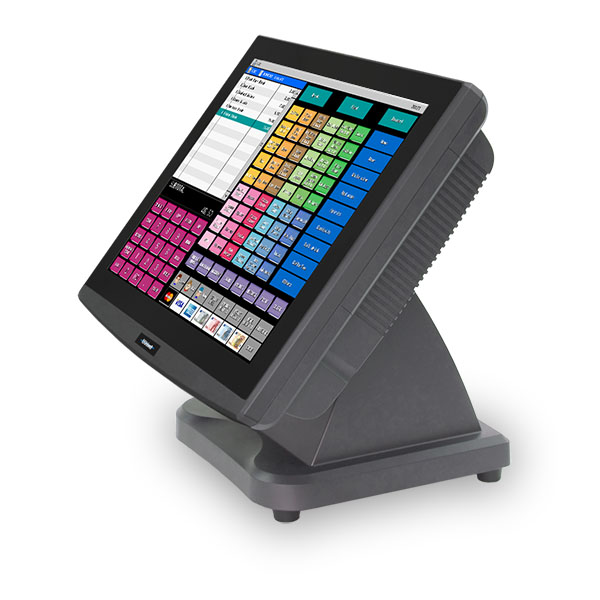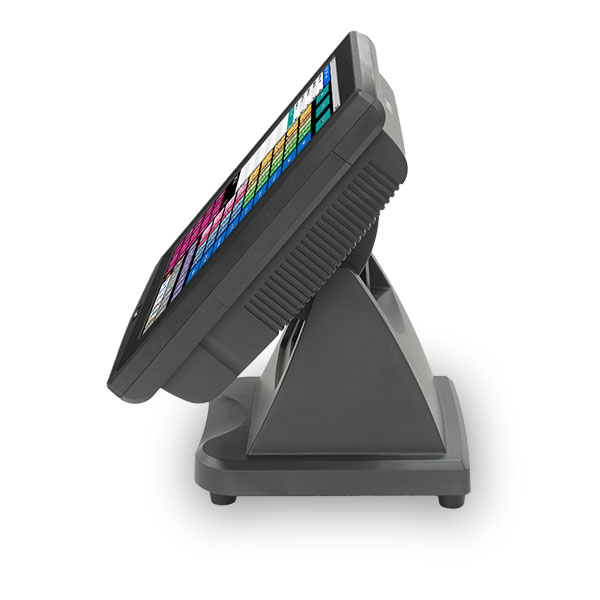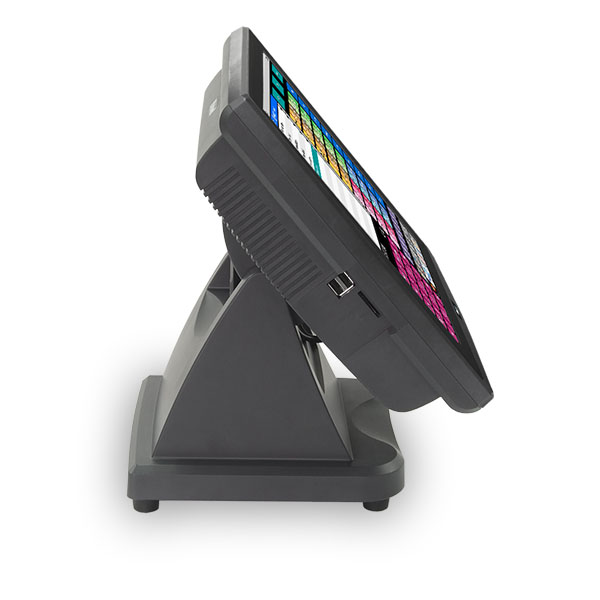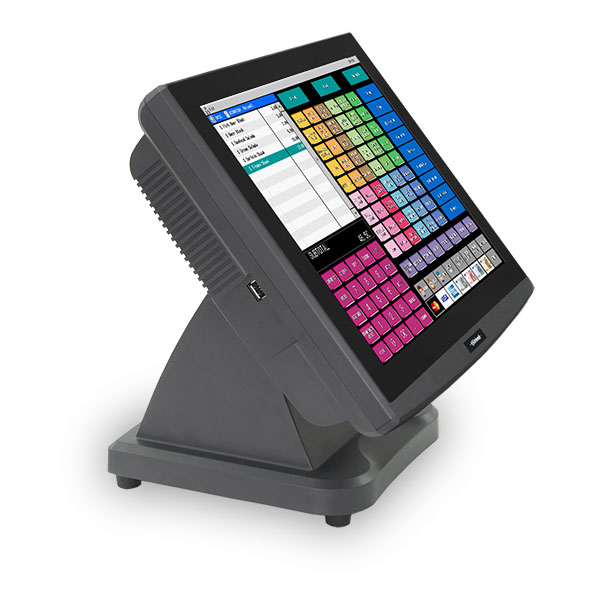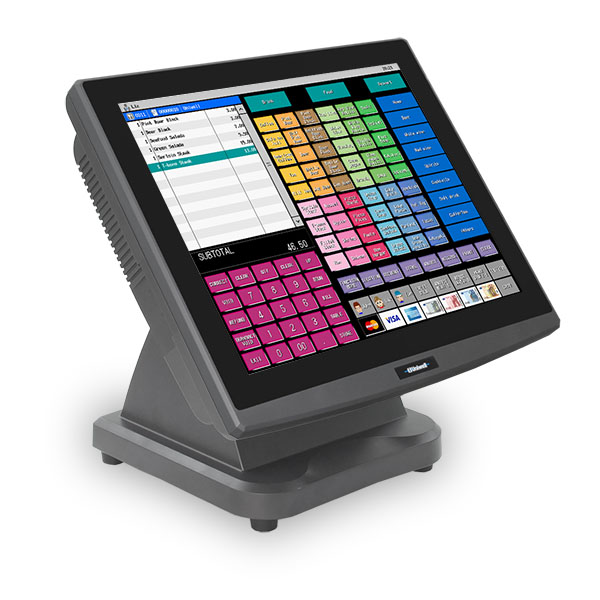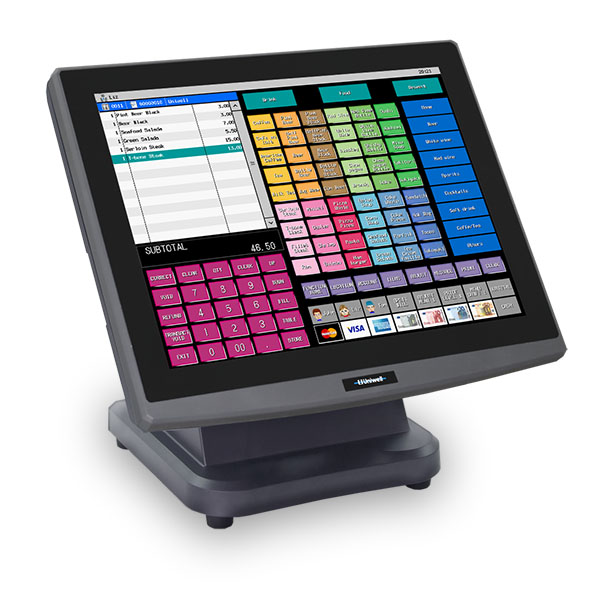 HX-4500 (Discontinued / some area) Features
Hardware features
15" bezel-free and true-flat touch screen display with enhanced waterproof performance
Touch screen with superior durability
Graphic LCD Customer Display support
More Internal Memory
CashGuard interface (cash recycle/cash dispenser)
Caller ID interface (telephone ordering system)
Portable storage devices (USB memory etc..)
Table Manage
Table management
Table tracking with floating track capability
Extensive Condiment
Cocking instruction features
Handwritten cocking message
Powerful Kitchen printing facilities
Split bill by item or seat
Checkout bill
Deposit
QSR and fast food
Customized receipt
Extensive Topping
Take out/eat-in system with combo menu
Drive through
Web ordering system
Retail
Various promotion types;
Mix and Match Meal Deal, Coupon, etc.
Stock control
Weight/Price embedded barcode and source marking code
Scalable Item

Customer Royalty
Customer management
Room/Loyalty
Mifare card (RFID card) Customer Loyalty
Others
Remote Access/Remote Maintenance
Flexible/Various Report

And more!

---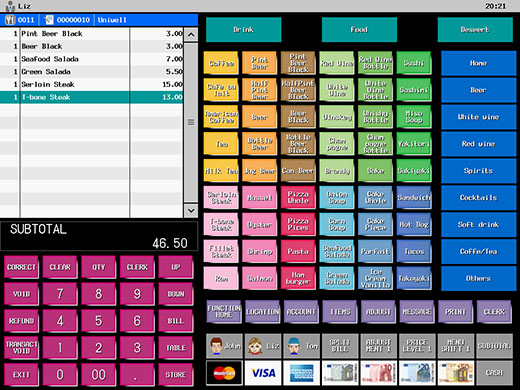 Screen image of HX-4500 software type-03 (Example with some graphical buttons)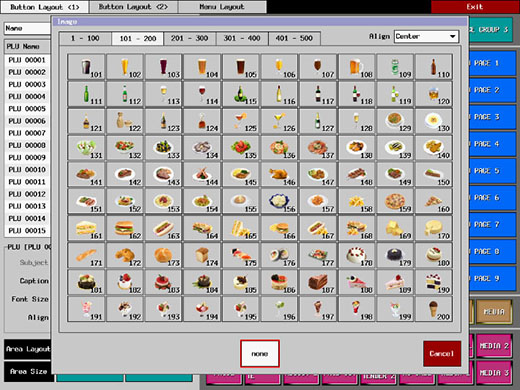 Built-in graphical buttons are customizable by BMP file.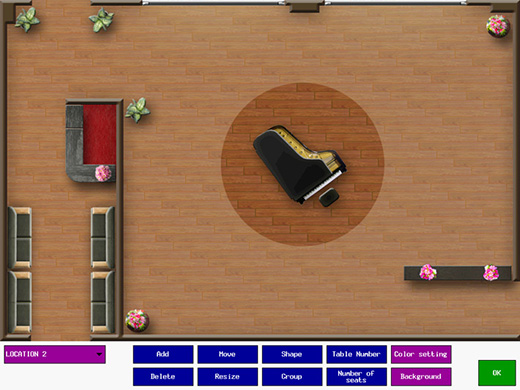 Graphical Table Plan: Different layout is available for up to 8 locations.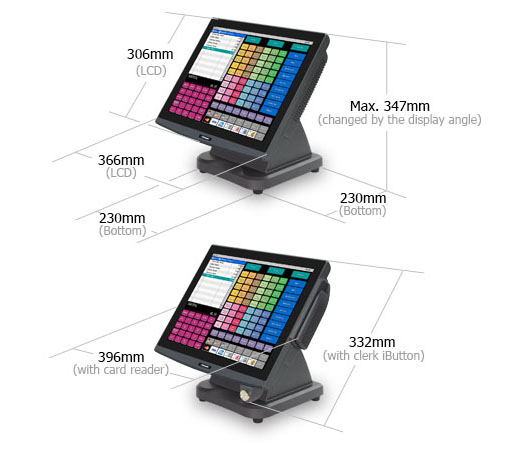 Compact & small footprint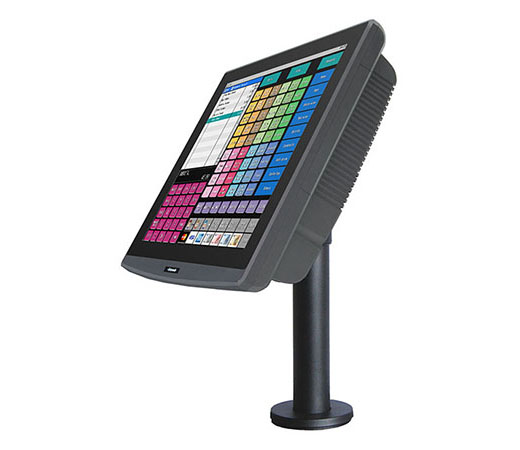 Versatile mounting options: counter or pole (dealer option).
(HX-4500 has VESA Mounting Interface Standard MIS-D75, 75 mm X 75 mm, M4)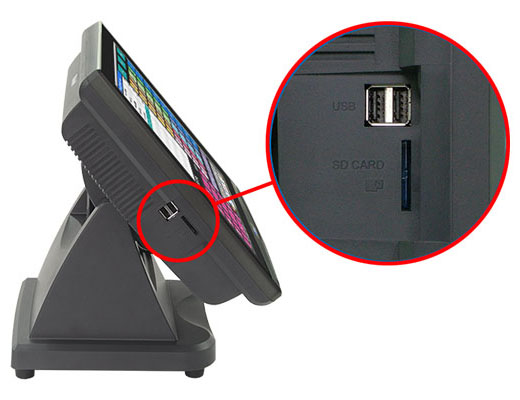 Easy access to USB / SD card slot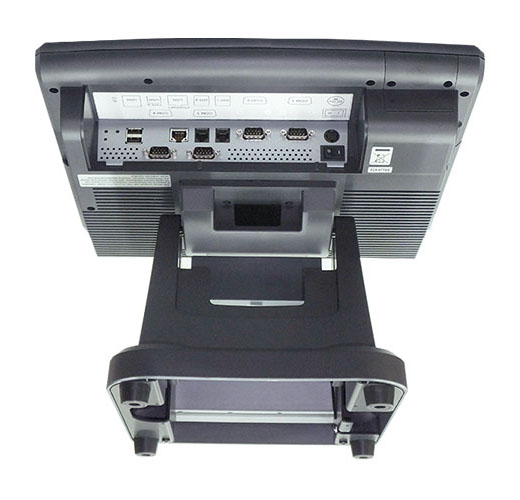 Well positioned I/O ports and smart cabling through the base unit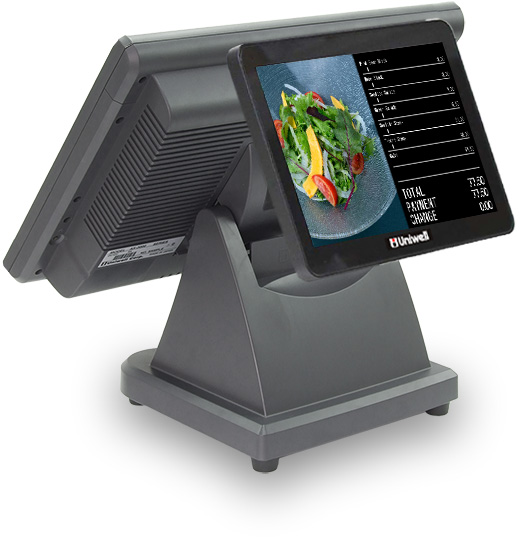 Option: Customer LCD display
DP101A-U (USB/10.1 inch TFT display)
Interfaces
Port
Cable
For
ETHERNET
LAN
PC (Back office)
FTP comm. with PC (Report, Program maintenance, Firmware update)
UDP data streaming (Journal data monitoring and analysis)
Internet (Head office, Web ordering)
Remote access/Remote maintenance
Ethernet IRC (max 32units) (Floating Track, IRC report, Program download, etc.)
Kitchen/Receipt printer (shared max 20unites)
Kitchen video system
EFT terminal
External loyalty
COM 1-4
RS232C
PC (real time data streaming)
Printer (kitchen, receipt, slip)
Caller ID
EFT terminal
NFC terminal
2 line customer display/customer LCD
Barcode scanner
Scale
Journal data transfer
Room transfer
Coin note recycler
Drink dispenser
etc.
USB x 4
USB
PC keyboard
Mouse
Barcode scanner
USB memory
LCD graphic customer display
RFID reader
Biometric scanner (Finger print reader)
SD card
Data backup
Control data and graphic image for ''LCD graphic customer display''
Drawer1&2
RJ11
24V drive, two connecters for each of the two drawers with open sensor
Options
Card Reader
iButton for quick clerk sign on
Back Office Modules
Cloud-based POS Management Modules