Appetizer - Mobile ordering solution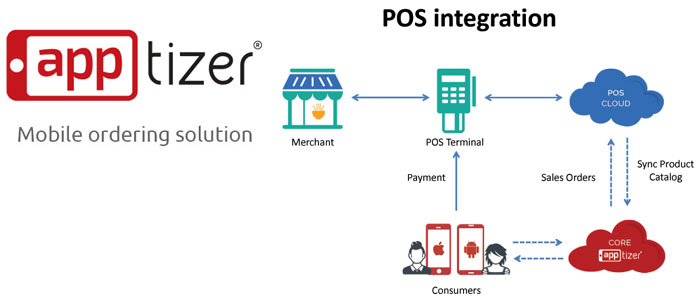 COMING SOON!!
Apptizer Inc., a Silicon Valley company located in Palo Alto, aims to supply high quality mobile software platforms and services to global retail space.
Apptizer is an Omni channel native mobile application generator platform helping Uniwell merchants to digitalize in a matter of minutes. This is offered as a complementary add-on for Uniwell HX-2500 merchants.
Integrating with Uniwell POS enables their merchants to directly receive orders placed via any mobile channel and helps to manage orders on the Uniwell POS terminal itself. Merchants can view all their orders in a centralized system and provides the business with a holistic view. Apptizer, as an additional sales channel helps Uniwell's POS merchants to run their businesses efficiently, by generating accurate reports and without having to manage multiple menus or inventories. Therefore, Apptizer brings convenience and a superior purchasing experience to your consumers.

Apptizer's key features
Enables Uniwell POS merchants to create custom branded native iOS and Android mobile applications
A complimentary add-on for Uniwell HX-2500 merchants.
Seamless integration with Uniwell HX-2500.
Provides with real-time order notification on the POS.
Real-time menu updates on the application.
Provides a descriptive sales order to the merchant.
Provides the customer with the order status.
Key benefits for Merchants
A custom branded application enabling customers to place orders quickly and easily.
The custom branded application is published in a few days.
A centralized system to manage menu or inventories for Mobile applications and POS.
An additional sales channel.
Available as an add-on with a monthly subscription fee.
Ease of managing sales orders via mobile or in store, in a centralized system.
Offer a quality mobile experience to consumers.
Online payment integration with multiple payment facilities.

Appitizer (click here if you need further information)