AP4T2000 - Auto Polling For Tensai2000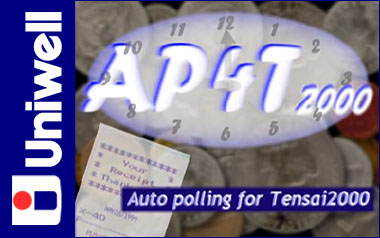 AP4T2000, "Auto Polling For Tensai2000" is free software and enables to take various reports from Uniwell ECRs manually or automatically at a time when used together with Tensai2000.
It is very convenient especially when branches are closed without staff and you want to take reports from remote office using report polling timer.
You can even relax at home!
Furthermore, PLM2000 & t-Repo, which are included in Tensai2000, can be accessed and performed from the same Main Menu of AP4T2000 with ease.
Benefits
Retry setting is available in case of communication error between PC and ECR.
Report name can be created on Report List menu.
Combination of reports can be set for easy report-polling procedure.
Automatic or Manual polling is selectable.
Report Status is available upon completion of report data transmission
Each report is saved under date folder which is created automatically upon receiving report data from ECRs.
Consolidation of reports are available with the setting of period.
Each text on AP4T2000 can be translated into your own local language.
Easy access to Tensai2000 functions such as Site Configuration & PLM2000 & t-Repo

Report List
Easy-to-understand name for each report can be created.
Report names personally created on Report List screen can be saved in the text format in Tensai2000 folder by single press of Export button in case of version update and retrieve it back by Import button.
Max. 5 sets of reports can be pre-settable by clicking each checkbox.

Consolidation Report
Consolidation report can be created by simply setting the period and Report#.
Each consolidation report will be saved in a Consolidation folder, and it's easy to find each report since each file is named with period & report#.
Consolidation Report is pretty useful for the sales analysis.