EX-500 series
With 128 x 64 dot LCD + drop-in thermal printer(s) or dot matrix printer,
EX-560/570/575-03 type offers basic hospitality systems but with advanced functionality even competing with upper ranges.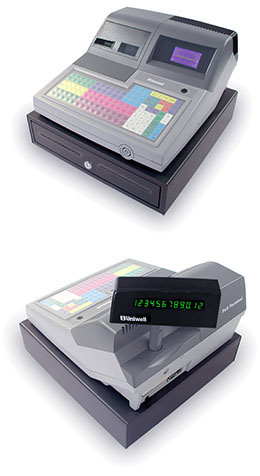 EX-560/575/570 series are quite different from the pack: LCD is Uniwell's original with incredible brightness and clearness and very wide view angle. It fits in any operational environment! Further, a choice of multi-lined items or single enlarged PLU display method and blue or white background color will meet various user's preference.

Rich information contents on LCD guides you through accurate operations not only during registration but also programming - easy to grasp registered items and make void/correction with scrolling function, to program a PLU with name, price, stock control, and other settings all at once (Complete PLU Programming). Once learned, you may do away with programming manual!

Choice of printer meets various industries' needs - durable 2 station dot matrix printers, quiet and fast 1 station/2 station thermal printers.
EX-560: Dot Matrix Printer Model
2 sheet dot matrix printer, 3 lines/sec
Receipt/Journal: 24 columns/line
Validation: 55 columns/line
Paper roll: 44.5 ± 0.5 mm x Φ83 mm
EX-575/EX570: Thermal Printer Model
Thermal printer with an auto cutter and clamshell mechanism
EX-570: 2-sheet thermal printer, 21.3 lines/sec
EX-575: 1-sheet thermal printer, 26.7 lines/sec
Printing digit: 36 columns/line
Paper roll: 58 mm x Φ83 mm
Keyboard
Stroke key: 81 key positions / Flat key: 130 key positions
Front Display (LCD)
Blue mode LCD with white LED backlight (inversion) 21 columns x 8 lines, View Angle Adjustment: Max. 15 degrees
Rear Display (7segment LED)
12 digits numeric x 1 line (standard)
Cash Drawer
Selection of "with" or "without drawer"
Dimensions
370 (W) x 415 (D) x 196 (H) mm without drawer
405 (W) x 423 (D) x 297 (H) mm with drawer
IRC (Inter Register Communication)
32 ECRs
PC communications with Tensai2000 via NA-700
Flash reports and flash downloading
Floating clerk, floating track
8 kitchen printers
8 slip printers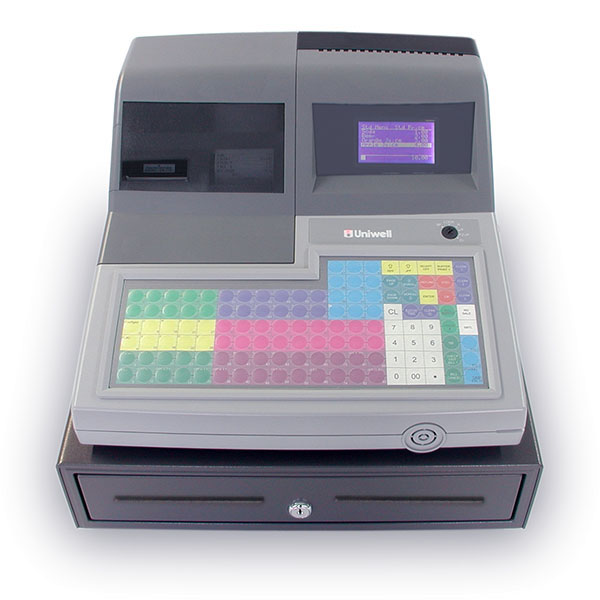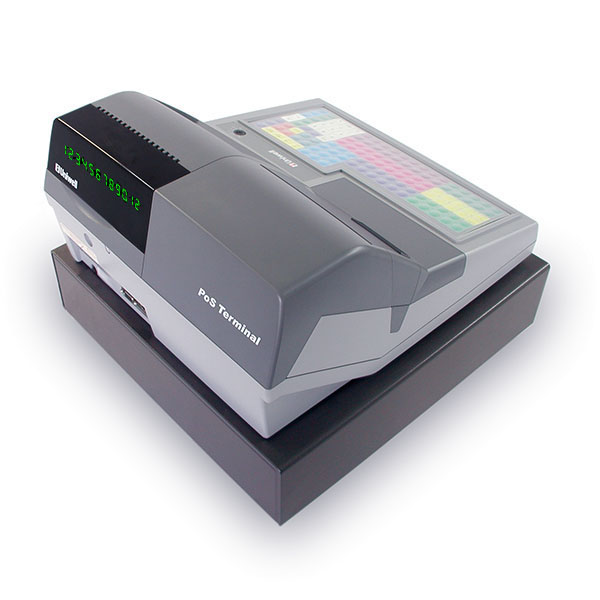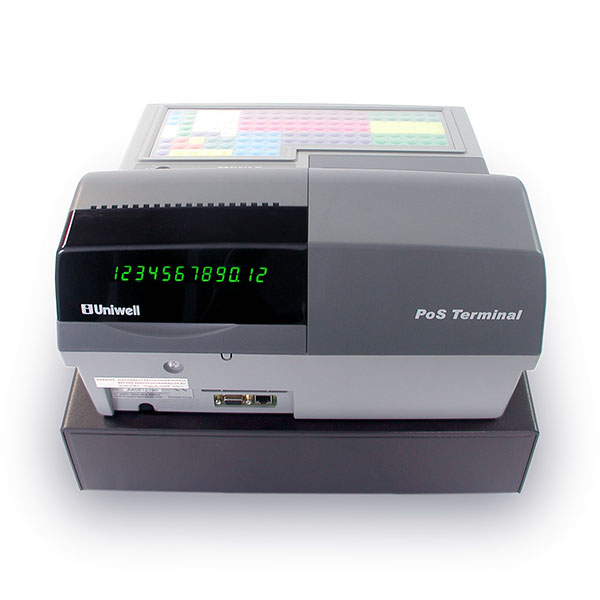 EX-560/570/575-03 (Discontinued) Features
Scanning system with 14 digits random PLU code having 22 digits PLU name
Standard 780 PLUs Max. 34068 PLUs (option)
User friendly PLU programming in R & SP positions
40 kinds of Look Up PLUs
Clerk Interrupt system including IRC floating clerk
Table Management system with selection of Clerk Interrupt system
Clerk Time & Attendance 3780 record (option)
Item track system and amount track system (option) including IRC floating tracks
Item Transfer to an Item Track
Ticketing Function
Scale link
---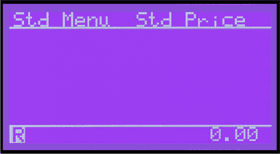 Scrolling display function with void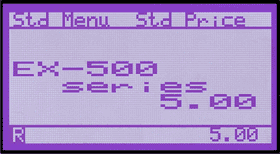 Interfaces
Port
Cable
For
A
RS485
Inter Register Communication, Kitchen printer, Slip printer
B
RS232C
One of: PC communication, Scanner, Scale, Thermal slip printer, RAM data transfer,
Journal data transfer, EFT terminal
C (Option)
RS232C
One of: PC communication, Scanner, Scale, Journal data transfer
D (Option)
RS232C
Same as ch-C port
Options
Card Reader
iButton for quick clerk sign on
Optional memory board
Optional interfaces board